GARHI KHUDA BUX: Pakistan Peoples Party Parliamentarians and former President Asif Ali Zardari is addressing a rally in Gari Khuda Baksh on the tenth death anniversary of former Prime Minister Benazir Bhutto.
"Have never seen anyone as brave as Benazir," said Zardari.
The former President of the Party said conspiracies are still being hatched against the party.
"There was a conspiracy against Benazir and the PPP. The conspiracy is still in play and we are still seeing its results today."
Criticising political leaders, Zardari said some of these leaders are the result of benefits gained from returning officers.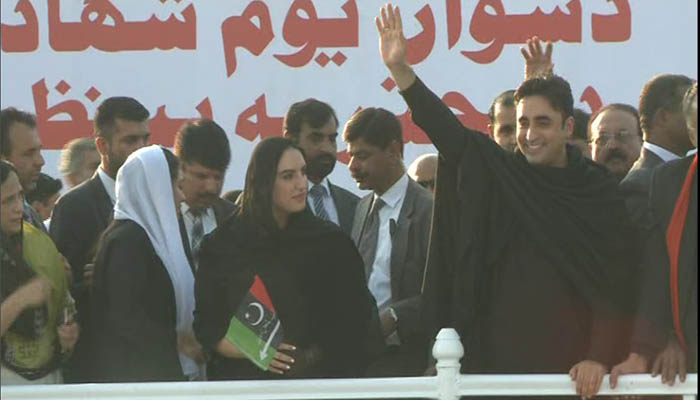 In an apparent reference to the PML-N, Zardari said just like they have issues with the PPP, they too have issues with the PML-N.
"Just like you have issues with us, we have issues with you as well. You have always backstabbed us. This time we will not support you."
Zardari also rejected talk of any NRO in the future and said the party will not accept another compromise.
"We spend 12 years in jail while you spend a few months and then get to sign an NRO and attain your freedom. That will not happen again. We reject and NRO in the future," said the former president.
Zardari said he will be cautious in running the party and will always use politics for the betterment of the people.
"I consider every worker my child. Benazir did the same and used to cry for her workers whenever she recieved news of their death," said the PPP co-chairman.
Concluding his address, the former president reiterated that the real leader is Bilawal Bhutto.
"The real leader, the leader of the nation is Bilawal."
10th death anniversary of Benazir Bhutto
To observe the 10th death anniversary of slain Pakistan Peoples Party Leader Benazir Bhutto, the party is holding a rally at Garhi Khuda Bux on Wednesday.
The rally is expected to be attended by more than a million party supporters and workers.
The preparations for the rally have been completed and supporters have started coming to the rally site.
The function will start with Bilawal addressing public meeting which will be attended by Zardari, among other party leaders such as Yousuf Raza Gilani, Nasir Ahmed Khuhro and Murad Ali Shah.
A documentary, depicting life and achievements of Shaheed Benazir Bhutto will also be shown at the occasion.
Separate camps have been set-up to accommodate the leaders and workers from all the four provinces, Gilgit-Baltistan, Northern Areas and Azad Kashmir.
A mushaira (poetry recital) has also been scheduled in front of the mausoleum of Benazir Bhutto Wednesday afternoon.
Meanwhile, Deputy Commissioner Larkana Kashif Ali Tipu and SSP Larkana Tanvir Hussain Tunio informed that more than 7,000 police personnel, including women police, traffic police, special police commandos of Sindh Police and three hundred personnel of Shahbaz Rangers, have been deployed to ensure the law and order on the occasion.
The SSP Larkana said that senior rank officers will supervise and monitor the activities in Garhi Khuda Bux and Naudero. Moreover, bomb detectors, scanning machines, jammers, sniffer dogs, watchtowers, 60 walk-through gates have been set up for security purposes.
DC Larkana said various medical and other welcome camps have established with 60 fire brigades deployed at the various locations.
Bilawal pays tribute to Benazir Bhutto
In a special message on his mother's death anniversary, Bilawal said that those who killed Benazir Bhutto had actually planned to kill the whole nation, but former president Asif Ali Zardari saved the country by raising "Pakistan Khappay" slogan after her assassination in Rawalpindi.
He said that Benazir Bhutto lost her father, brothers and even mother fighting for the rights of masses and against the dictatorial vultures hovering over the country.
In her valiant battle against the forces of darkness and elements of dictatorships, she eventually embraced martyrdom in line with the legacy of her father Zulfikar Ali Bhutto, he said.
Sindh Chief Minister pays homage to Bhutto family
Sindh Chief Minister Syed Murad Ali Shah visited the Mausoleum of Bhutto family in Garhi Khuda Bux Tuesday evening.
Shah laid floral wreaths at the graves of Benazir, founder of PPP Zulfikar Ali Bhutto.
Sindh Chief Minister also visited the graves of late Mir Murtaza Bhutto and Late Mir Shahnawaz Bhutto and offered fateha.